Black Lives Matter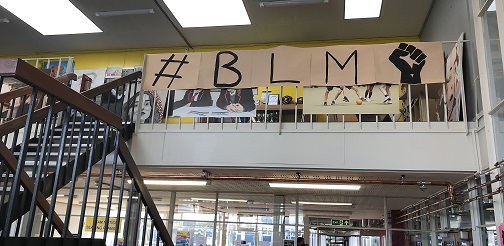 Black Lives Matter: Statement from Haileybury Turnford
The school community was shocked and appalled by the recent killing of George Floyd.
We are fully committed to tackling racism at Haileybury Turnford, whenever it occurs, whilst at the same time promoting the values of tolerance and mutual respect.
We fully acknowledge that Black Lives Matter.  We are proud of our increasingly diverse school and believe in celebrating and promoting equality, diversity and inclusion.  Our students speak 37 different languages and already have many opportunities to learn about different cultures and heritages.
We are not complacent, however, and want to do more.  We are determined that no one feels marginalised or discriminated against.  Black, Asian and Minority Ethnic students, staff and governors are all important members of our community and we are clear that we will not accept discrimination of any kind.
We are planning to further develop our curriculum to ensure Black histories are fully incorporated into the students' education and that diversity is promoted at every opportunity.  An outcome from the current curriculum review for September 2020 will ensure that more Black histories are taught, with a particular emphasis on the lives of Black British people and their contributions to society.
We will also seek views and feedback from students, parents, staff and governors to ensure we have a better understanding of how best we can promote equality, diversity and inclusion in our school.  Our action plan will be informed and guided by the views that are shared and the responses we receive.
We continue to be invested in the lives and opportunities of all our young people to promote social justice and aspire for each student to become a fully rounded citizen, creating a better, fairer society for us all.
Next steps:
There are important actions we will take as a school.  We must take action beyond putting out a statement.
We will:
Ensure our curriculum review for September 2020 onwards ensures Black histories are fully incorporated into our students' education and that diversity is promoted at every opportunity
We will ensure that there is good representation of Black voices in and beyond our taught curriculum, through speakers, trips and visits
Review our HR recruitment processes to ensure we minimise unconscious bias during all recruitment processes
Invite all colleagues that identify as BAME to form a forum to ensure their voices are heard, and the senior team and governing body can respond to any recommendations made
Seek views and feedback from students, parents, staff and governors to ensure we have a better understanding of how best we can promote equality, diversity and inclusion
Have a link governor, with responsibility for Equality, Diversity and Inclusion