HT Careers Programme
This information is designed for students, teachers, parents and employers
Careers at Haileybury Turnford
The Senior Leader responsible for Careers Education at Haileybury Turnford is Mr E Macaulay (Assistant Principal and Careers Lead).  Mr E Macaulay, oversees all aspects of careers education, advice and guidance at Haileybury Turnford. Mr Macaulay can be contacted at macaulaye@haileyburyturnford.com
Good Career guidance is the key to social mobility.  It is about showing young people the options available and open to them and helping them to make the right choices to set them on the path to rewarding future careers.  Our curriculum and Careers Education at Haileybury Turnford aim to prepare students for their future destinations and life beyond school.  We endeavour to ensure all students, parents and carers are aware of the options and choices available as they progress through school and beyond school.  At Haileybury Turnford we allow students to research all options so they can make well informed choices about their future.
Haileybury Turnford has achieved 100% on all eight of the Gatsby benchmarks.   The eight Gatsby benchmarks are a framework for good career guidance developed to support schools in providing students with the best possible careers education, information and advice.  Our careers programme follows the guidance from the Gatsby benchmarks.  The benchmarks are implemented into our strategy and into the delivery of our careers education.  The table below gives a brief summary and criteria of each of the benchmarks.
| | |
| --- | --- |
| 1 | A stable careers programme – All schools and colleges should have a stable careers programme which is known by students, teachers, parents and employers. This should include high-quality career advice and guidance. |
| 2 | Learning from career and labour market information – All students and parents should have access to labour market information which includes post 16 and post 18 options. There should be a designated informed adviser who can help students and parents to understand this. |
| 3 | Addressing the needs of each student – Each student will require different career advice and guidance. Schools and colleges need to address the requirements of students as an individual. Equality and diversity should also be taken into consideration here. |
| 4 | Linking curriculum learning to careers – Teachers should explain how subjects which are being taught are related to careers outside of education. For example, maths can be heavily linked to a career in accounting. |
| 5 | Encounters with employers and employees – Schools and colleges should organise for students to speak with employers and employees. |
| 6 | Experiences of workplaces – Each student should have the opportunity to experience the world of work first hand. This will enable students to explore different career pathways and extend their network. |
| 7 | Encounters with further and higher education – School and colleges should ensure students have a proper understanding of the learning opportunities available to them and this should cover all academic and vocational routes. |
| 8 | Personal guidance – All students should have opportunities to meet with a career adviser to discuss guidance and career options. |
Haileybury Turnford's careers programme includes the following:
Personal Development lessons during tutor time delivered once per week to each Year group.
Assemblies relevant to each Year group.
Enrichment opportunities and drop-down sessions run by various external agencies.
Post 16 work experience.
Career guidance tasks.
One-to-one personal careers guidance.
STEM projects and competitions delivered by Design and Technology, Science and Maths.
Enterprise projects.
Careers talks and encounters with employers offered at Haileybury.
Coordinated transition for students with SEND through the SEND Manager (SENCO).
UCAS and enterprise talks for post-16 students.
Annual Y9 Options and Sixth Form options evening.
Prince's Trust Achievement Award aimed at supporting disadvantaged students.
Close liaison with Hertfordshire and Balliol College, Oxford Universities.
Business Studies, Enterprise activities and events.
Regular external speakers deliver to whole year groups.
Careers Fair trip for Sixth Form students.
Independent personal guidance for all students in KS4 and KS5.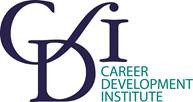 Haileybury Turnford is affiliated with the Career Development Institute.  This is an institute and professional body for the careers sector which supports schools and Career Leaders to support Career Education in schools.  The CDI is a national and recognised organisation and UK-wide professional body for everyone working in the fields of career education; career information; advice and guidance.
Haileybury Turnford Careers Programme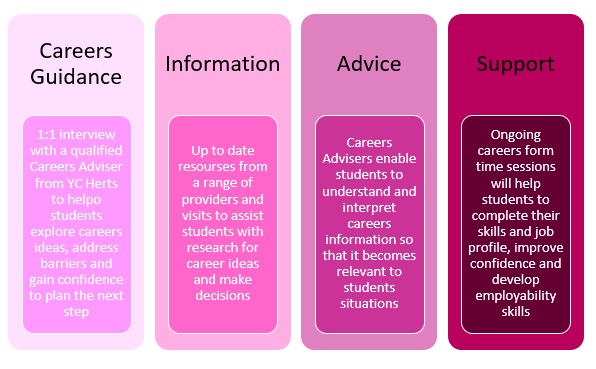 This information is designed for students, teachers, parents and employers
At Haileybury Turnford we are committed to providing a careers programme to inform and equip every student in Year 7 to 13 with the information, skills and options needed to ensure they have a successful and smooth transition from education into employment.
We offer a tailored careers programme for each year group, which is designed to inspire our
students, raise their aspirations and promote access to different career paths. In addition to year group activities, we also give parents information at planned events throughout the year and listen to student and parent voice regarding careers education through annual focus groups and questionnaires.
In 2014, Lord Sainsbury's Gatsby Charitable foundation published a report titled "Good Career Guidance". The report identified eight benchmarks that are core dimensions of good careers and enterprise provision in schools.
We currently meet all eight benchmarks to ensure our students have the very best careers provision available. The eight benchmarks are:
1. A stable careers programme
2. Learning from career and labour market information
3. Addressing the needs of each pupil
4. Linking curriculum learning to careers
5. Encounters with employers and employees
6. Experiences of workplaces
7. Encounters with further and higher education
8. Personal Guidance
To help us deliver each of these benchmarks we work with a range of partners and organisations to support our Careers and IAG provision some of our partners are shown below.
YCH Services for Young People – Click Here
Provide impartial careers interviews and advise to each of our Year 11 and sixth form students.
Hertfordshire Local Enterprise Partnership – Click Here
Support in meeting the Gatsby benchmarks and evaluating careers and IAG provision.
Innovative Career Solutions – Click Here
Provide opportunities for students to gain work shadowing through an assessment centre experience with year 12 students. Student visits and Deliver on the Year 10 Careers Day.
Unifrog – Click Here
Platform that helps students to make the best choices and submit the strongest applications
University of Hertfordshire – Click Here
In conjunction with their Outreach programme they provide a range of in school and on
campus activities for all year groups to gain more information about going to university and
what it will be like.
Policies
Haileybury Turnford facilitates access of providers to the school for the purpose of giving students information about the provider's access or training offer. This complies with the school's legal obligations under Section 42B of the Education Act 1997. For further details please see our Provider Access Statement (Baker Clause) below.
Careers Programme
We deliver a structured CEIAG activity plan which is reviewed on an ongoing basis and involves all year groups. Below is a brief outline of some of the key activities we offer.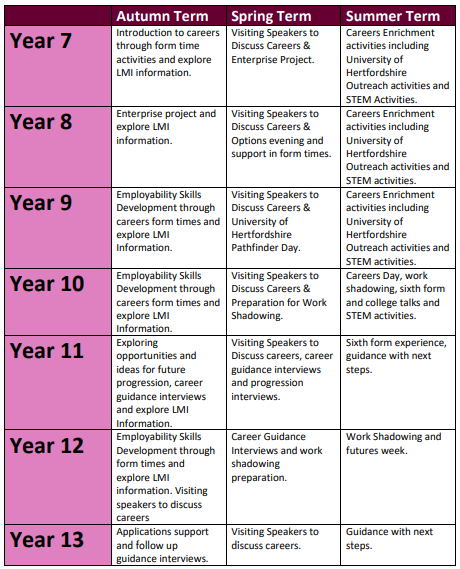 Careers Champions
Each faculty area has their own careers champion who is responsible for linking curriculum learning to careers, bringing in external speakers and organising trips and visits that are related to careers.
Careers Bulletins
In addition to weekly form times the school also produces a weekly careers bulletin designed to keep students, parents and staff updated on all things related to careers. Please find below links to the current bulletin and previous issues.
Documents: