Welcome to Sixth Form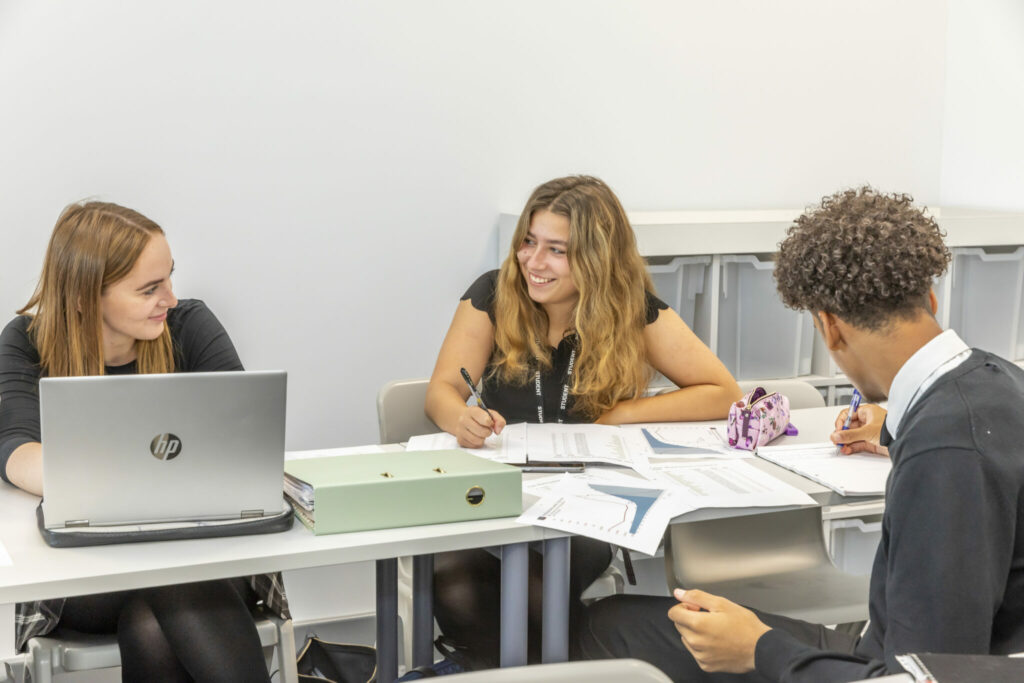 There is a lot of information about us on the Sixth Form section of our website. Contact Mrs Shivalkar, Head of Sixth Form by email at shivalkarn@haileyburyturnford.com with any queries.
We are a 'sixth form for everyone' with A Level, vocational and GCSE courses available
Alongside individualised support for students who wish to apply for the most competitive universities, including Cambridge and Oxford, for apprenticeships or for employment at the end of their time in our sixth form.
"The Sixth Form is Good. Sixth Form students attend well and are punctual. Higher quality teaching in the Sixth Form helps students to make good progress in academic and vocational courses."  (Ofsted 2018)
Thank you for visiting our website to explore the exciting opportunities that may lie ahead of you in the next two years if you choose Haileybury Turnford as your Sixth Form.
"Our teachers truly believe that we can achieve whatever we work hard for. Alongside our studies, we are encouraged to broaden our perspective and experiences by taking part in enrichment activities. We can also use some of the state of the art facilities and teaching at Haileybury which means that we benefit from further learning that some other Sixth Forms may not have access to. Our Sixth Form is great preparation for our future studies or the world of work." Head Girl
In partnership with Haileybury
Our partnership with Haileybury was established in September 2015. As the relationship has grown, many of our students have been invited to complement their A level studies by participating in the curricular programme at Haileybury. The programme covers a number of subjects including Science Masterclasses and Spanish lessons and gives students a real advantage when approaching their exams.
Haileybury is also hands on with their support of UCAS applications, admissions tests and interview skills for the most selective universities. With their assistance and encouragement, many of our students have been successful in going to their first choice of university. Very recently this has included a student attending Trinity Hall, at the University of Cambridge to read Human, Social and Political Sciences.
We also have students progressing well in the Combined Cadet Force, participating in Haileybury's annual Model United Nations Conference and attending regular lectures hosted at the school in Hertford.
"We are delighted that our partnership is already making a real impact on the lives of the students at Haileybury Turnford. The future for Haileybury Turnford is very bright indeed." Chair of Haileybury Turnford Governors, Russell Matcham
"We have a good partnership with our teachers. There is a very positive atmosphere and we are treated as adults." Student
Enrichment for a broad and well-rounded student experience
As well as your academic or vocational studies, our Sixth Form gives you space to further your potential and grow in confidence.
We participate in several enrichment programmes and encourage students to explore all that is available. Anyone interested in adding to their skill set and expanding their experiences is given the support and assurance they need to pursue their goals.
Very recently, two of our Sixth Form students won prestigious Pioneer Awards from BASET (Britain-Australia Society Education Trust) which allowed them to travel to and around Australia to spend a month at Haileybury Melbourne.
"Winning the Pioneer Award from BASET was a life changing experience. Living so far away from home, meeting new people and enjoying the Australian culture was inspirational. I have a million fond memories of my time there. This wouldn't have been possible without the support of my Sixth Form teachers and my peers." Student
"My son is finding Sixth Form a welcome challenge and is enjoying his chosen pathway a great deal. I feel that the teachers and leadership team within the Sixth Form work hard to bridge the gap between school and university, by encouraging their students to make 'real world' choices and supporting them throughout." Parent
"Haileybury Turnford was my child's first choice for Sixth Form. It is clear that they nurture all skills and talent whether they are academically focused or, like for my child, vocationally driven." Parent 
Mrs N Shivalkar
Head of Sixth Form
Documents:
| | |
| --- | --- |
| Parent Student Invitation Letter Sixth Form Open Evening November 2021 | Download |
| Sixth Form Student Handbook 2021 | Download |
| Sixth Form Prospectus | Download |