HT Library
Opening Times: Monday-Thursday 8.15am-4.15pm and Friday 8.15am-3.30pm
All students and staff are welcome to use the library which has recently been moved to a much larger area within the new building. It is an extremely popular, inviting environment for all.
There are approximately 11,000 resources for loan and new book stock is currently being added to encourage and promote reading for students from Year 7 through to Year 13. Book recommendations by students are welcome.
Weekly First News and National Geographic Magazines are also available for students.
Year 7 and 8 students receive a literacy lesson once a fortnight in the library with our Librarian, Mrs Saunders. Many English and History lessons also take place in the library throughout the day. Sixth form students also make use of the new innovative facilities on offer.
The new library includes 16 computers and a printer for students to use.
Students are able to visit the library at break and lunchtimes as well as after school to complete homework, independent study or to read.
School library events also take place, including on World Book Day, Reading Club, and Student Debate Club where students debate their point of view enthusiastically and improve their speaking skills.
Film Club takes place every Friday making use of the large cinema-style projector and screen.
We have also launched a Virtual School Library which can be found on Class Charts with titles being added regularly.
As well as our own HT Virtual Library National Literacy Trust also have a good Virtual Library too.

Click on the link for videos, interviews and fun activities from the National Literacy Trust.
https://wordsforlife.org.uk/virtual-school-library/
Every week a popular children's author or illustrator will provide you with free books, exclusive videos and their top three recommended reads.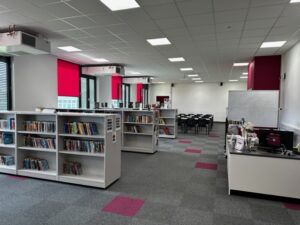 Documents:
| | |
| --- | --- |
| Haileybury Turnford Library Year 7 Suggested reading list 2023-24 | Download |
| Haileybury Turnford Library Year 8 suggested reading list 2023-24 | Download |
| Haileybury Turnford Library Year 9 suggested reading list 2023-24 | Download |
| Haileybury Turnford Library Year 10 suggested reading list 2023-24 | Download |
| Haileybury Turnford Library Year 11 Suggested reading list 2023-24 | Download |
| KS4/5 Virtual Library guide | Download |
| Virtual Library by Genre | Download |