Curriculum
Curriculum Overview Year 7 – 13
At Haileybury Turnford our curriculum is created around four areas: Academic Excellence; Cultural Capital; Character Education and Community. It is based on the principles of knowledge acquisition, underpinning the application of skills and leading to a curriculum which is ambitious, broad and balanced. We want all students to approach learning with confidence and independence, gaining deep knowledge of a broad range of subjects and the skills needed for lifelong learning. Our students will receive a world-class education, which prepares them to be fully rounded 21st century, local, national and global citizens. Our intention is that students will develop a positive attitude towards life and learning. It encourages them to become responsible and respectful to have integrity and to be safe and healthy in all they do.  Students will become independent and self-motivated, able to solve problems, have the resilience to adapt and the ability to work with others. they will respect others and understand the value of diversity and the need for equality.
Our curriculum will:
Be rich in knowledge and skills
Be well-sequenced and build skills, knowledge and understanding logically
Be inclusive and meet the needs of every students
Develop curiosity and make learning exciting and inspirational
Discover new talents
Raise aspirations and widen horizons
Be relevant and contextual
Prepare students for an ever-changing world and future
Ensure students leave school with confidence and the ability to make a positive impact on the world
Our students develop the knowledge, skills, and cultural capital that enable them to move successfully into training, apprenticeships, employment and higher education.  Our aim is that students leave Haileybury Turnford as successful, confident and considerate young adults.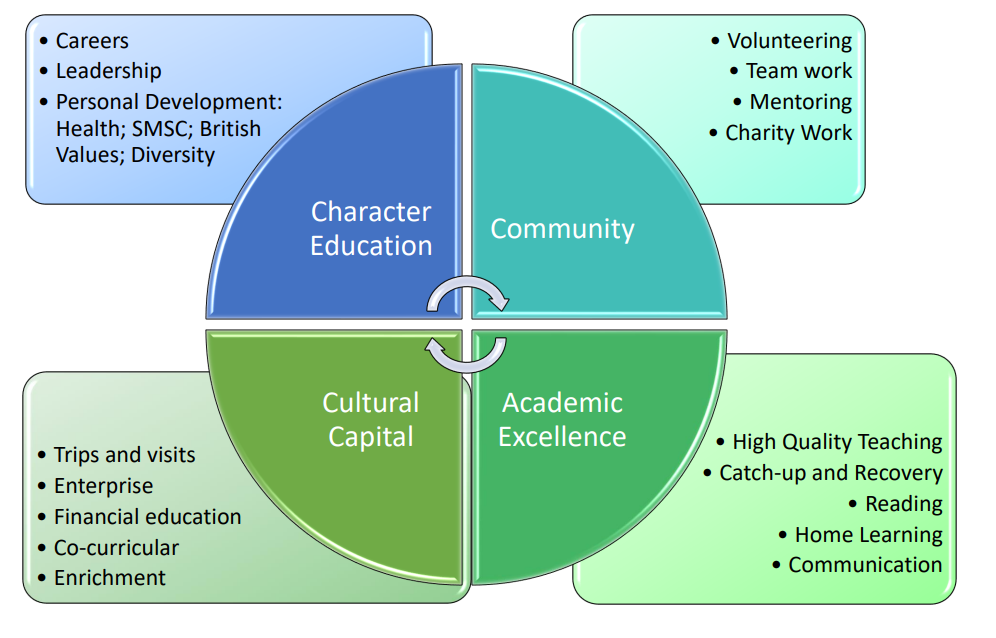 The HT Student
Our curriculum has been designed to develop these character traits in our students: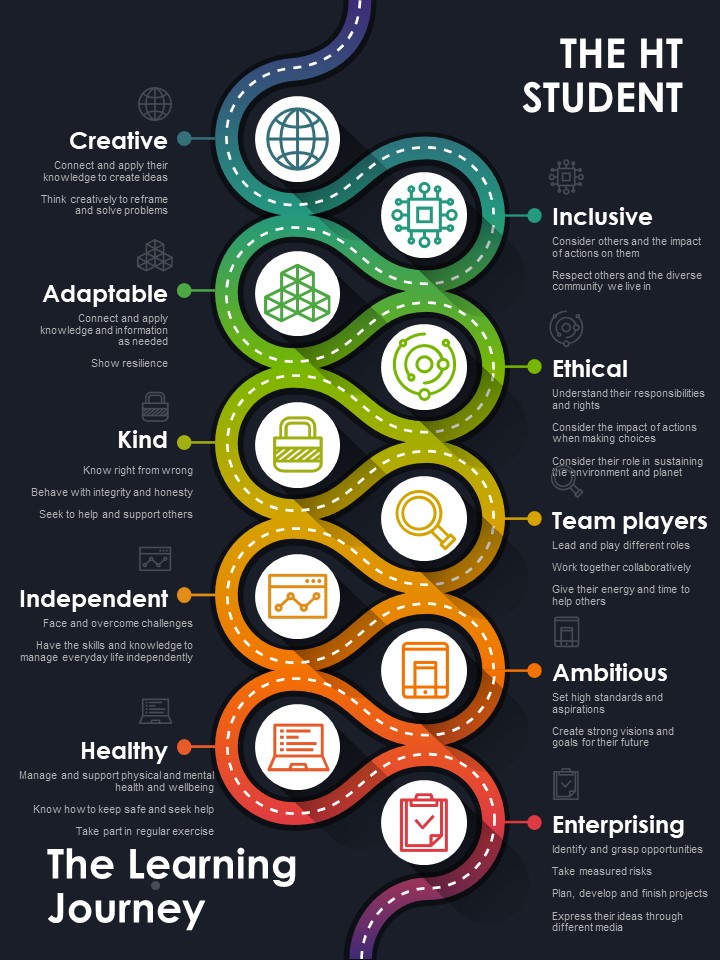 KS4 Options for students 
The school reviewed its curriculum during 2019-20 prior to the pandemic.
As part of this review, we considered the length of Key Stage 3 and Key Stage 4 and when students choose their Options to study to the end of Year 11.
Previously, Year 8 students chose their Key Stage 4 Options in the Spring Term each year. The guiding principles of our curriculum are to ensure that we provide a broad and balanced, yet ambitious curriculum for all students, which provides opportunities for them to achieve their full potential, alongside developing their character and ensuring their physical, and emotional wellbeing.
The decision was made to move to a three-year Key Stage 3 and a two-year Key Stage 4. This curriculum intent was approved by the governing body.
The Key Stage 4 Options Process for our Year 9 students takes place in April each year.  Specifically:
A three-year KS3 ensures all students have access to a broad and balanced curriculum where they can deepen their knowledge and skills across a wide range of subjects, complemented by programmes for development of character, cultural capital and their physical and emotional wellbeing.
A two-year KS3 meant a reduction in the number and range of subjects that students were exposed to and they were forced to make choices early, when they did not always have the maturity or knowledge of what such restrictions may mean for later study.
We see Key Stage 3 as the building block for students to develop the foundations of their knowledge, skills and understanding and to prepare them for the rigours of Key Stage 4. By having a three-year Key Stage 3, students have the time to embed and practice skills, develop a broader cultural knowledge and vocabulary and be best prepared for informed decision making. Students will gain exposure to a knowledge rich curriculum which is coherently and sequentially planned and which supports memory and cognition retrieval in preparation for Key Stage 4.
The Sixth Form application process and forms can be found under the Sixth Form Applications area.
More details about our curriculum can be viewed below or contact Miss Newman, Assistant Principal, at newmand@haileyburyturnford.com.
Documents:
| | |
| --- | --- |
| Curriculum Policy | Download |
| Curriculum Policy Appendices 1 and 2 | Download |
| Remote Learning Policy | Download |
| Year 7 Curriculum Autumn Term | Download |
| Year 8 Curriculum Autumn Term | Download |
| Year 9 Curriculum Autumn Term | Download |
| Year 7 Curriculum Spring Term | Download |
| Year 8 Curriculum Spring Term | Download |
| Year 9 Curriculum Spring Term | Download |
| Year 7 Curriculum Summer Term | Download |
| Year 8 Curriculum Summer Term | Download |
| Year 9 Curriculum Summer Term | Download |
| Art Curriculum overview | Download |
| Business KS4 Curriculum overview | Download |
| Business BTEC KS5 Curriculum overview | Download |
| Business KS5 Curriculum overview | Download |
| Child Development KS4 Curriculum overview | Download |
| Child's Play, Learning and Development & Child Development KS5 Curriculum overview | Download |
| Computing KS3 Curriculum overview | Download |
| ICT & Computing BTEC KS4 Curriculum overview | Download |
| ICT & Computing KS5 Curriculum overview | Download |
| Dance KS3 Curriculum overview | Download |
| Dance KS4 Curriculum overview | Download |
| Design & Technology KS3 Curriculum overview | Download |
| Design & Technology KS4 & 5 Curriculum overview | Download |
| Drama KS3 Curriculum overview | Download |
| Drama KS4 Curriculum overview | Download |
| Economics KS5 Curriculum overview | Download |
| English KS3 & KS4 Curriculum overview | Download |
| English KS5 Curriculum overview | Download |
| Enterprise KS3 Curriculum overview | Download |
| Food Technology KS3 Curriculum overview | Download |
| Geography Curriculum overview | Download |
| Health & Social Care KS5 Curriculum overview | Download |
| History Curriculum overview | Download |
| Mathematics Year 7 Curriculum overview | Download |
| Mathematics Year 8 Curriculum overview | Download |
| Mathematics Year 9 Foundation Curriculum overview | Download |
| Mathematics Year 9 Higher Curriculum overview | Download |
| Mathematics Year 10 Foundation Curriculum overview | Download |
| Mathematics Year 10 Higher Curriculum overview | Download |
| Mathematics Year 11 Foundation Curriculum overview | Download |
| Mathematics Year 11 Higher Curriculum overview | Download |
| Mathematics Year 12 Curriculum overview | Download |
| Mathematics Year 13 Curriculum overview | Download |
| Media KS3 Curriculum overview | Download |
| Media KS4 Curriculum overview | Download |
| Media KS5 Curriculum overview | Download |
| Music KS3 Curriculum overview | Download |
| Music KS4 Curriculum overview | Download |
| Music KS5 Curriculum overview | Download |
| Photography Curriculum overview | Download |
| Personal, Social & Development Curriculum overview | Download |
| Physical Education Curriculum overview | Download |
| Prince's Trust Achievement Award Curriculum overview | Download |
| Psychology & Psychology BTEC KS5 Curriculum overview | Download |
| Religious Education Curriculum overview KS3 | Download |
| Religious Studies GCSE Curriculum overview KS4 | Download |
| Science Year 7 Curriculum overview | Download |
| Science Year 8 Curriculum overview | Download |
| Science Year 9 Curriculum overview | Download |
| Science KS4 Curriculum overview | Download |
| Science KS5 Curriculum overview | Download |
| Sociology Curriculum overview | Download |
| Spanish KS3 Curriculum overview | Download |
| Spanish KS4 Curriculum overview | Download |