Vacancies
Career opportunities at Haileybury Turnford
Thank you for visiting our website.
We are looking for staff of the highest calibre who are capable of making a positive  contribution to teaching and learning at Haileybury Turnford and being part of our journey towards becoming an exceptional school.
Our new building with 12 new classrooms, 3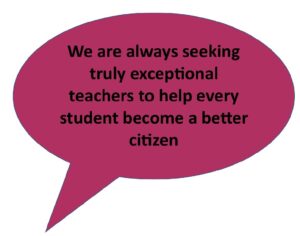 science labs, a sixth form teaching room and large library opened in September 2021, to provide first class learning facilities for all staff and students to benefit from. The rest of our school site will also receive state-of-the-art new buildings by September 2025.
We offer excellent induction and training to support professional development and learning to all teaching and support staff.  We have programmes in place for Early Career Teachers, as well as aspiring Middle Leaders and Senior Leaders. Our Early Careers Teachers are supported by Best Practice Network and the Alban Teaching School Hub which provides outstanding provision to our new staff (Ofsted, 2023).
We are committed to fair and transparent recruitment processes, with the wish to attract and select candidates from a wide, diverse talent pool. 
All teaching vacancies can be found on Gov.UK – Teaching Vacancies and all support vacancies at www.findajob.dwp
SEND Link Worker
37 hours per week, 39 weeks a year
08:00 – 16:00 Mon – Thu
08:00 – 15:30 Fri
½ hour break during the day: time of which to be agreed within the department
Salary: H4 6-9 pro rata
To help enable students with SEND to access the curriculum and to achieve their potential and assist in the coordination of their support between teacher, parent and school.
For further details please visit www.teachinherts.com Click Here
Premises Assistant
H4 – £23,893 – £25,119
To ensure the smooth running of the premises which are used throughout
the school day and available in the evening for hire by sports and community
groups.
A secure and well maintained site.
For further details please visit www.teachinherts.com Click Here
Governance Professional and Clerk to the Governing Body
Variable hours. Committees meet after school and on a Saturday morning during the school term.
The responsibilities of the Clerk to the Governing Board include;
• Advising the governing board on legal, constitutional and procedural matters, ensuring that governors receive appropriate support to fulfil their statutory duties.
• Ensuring that the board is fully compliant with the appropriate legislation and statutory requirements.
• Working alongside the chair and Principal, to plan and delivers a programme of business for the governing board.
• Leading on all organisational and administrative support to the governing board and committees, and provide any necessary follow up actions, including preparing minutes for publication.
• Building effective professional relationships with governors, Principal and others to maximise the effectiveness of the governing board.
For further details please visit www.teachinherts.com Click Here
Appointment Process
Please apply in writing to Mrs Jarvis, HR & Wellbeing Manager, enclosing a covering letter (no more than two sides of A4) and an application form (found below).

If you wish to discuss any role in more detail, please initially contact Mrs Jarvis – jarvisj@haileyburyturnford.com

We are unable to give feedback to applicants who are not shortlisted.

Candidates are encourages to submit their application as soon as possible as the school reserves the right to close the advert should we feel able to appoint an appropriate candidate.

All positions are advertised on the Teach in Herts website http://teachinherts.com and/or the TES Online http://tes.com/jobs as well as on our website.

For shortlisted candidates, on arrival you will usually meet the Principal or Vice Principal. We will give you chance to see the school, talk to students and meet colleagues. When appointing new teachers, we always observe you teaching a lesson. The interview itself will last no more than 30 minutes after which you will usually be free to leave: we will telephone you later in the day with the outcome of the interview process and offer verbal feedback to all candidates.

We look forward to meeting you.

Recruitment and Retention payments available for outstanding candidates.

Haileybury Turnford is committed to safeguarding and promoting the welfare of children and young people and expects all staff and volunteers to share this commitment.  All appointments are subject to employments checks and a satisfactory enhanced DBS check. This post is exempt from the Rehabilitation of Offenders Act 1974; the successful applicant will be expected to undertake a satisfactory disclosure.

We insist on the equal treatment of all current and prospective colleagues and will never condone discrimination on the basis of age, disability, sex, sexual orientation, pregnancy and maternity, race or ethnicity, religion or belief, gender identity, or marriage and civil partnership.

Haileybury Turnford is also equally committed to being an anti-racist organisation and we encourage you to view our Black Lives Matter statement which gives clarity on our anti-racist stance. In our relentless efforts to be an anti-racist organisation, we recognise the negative impacts of under representation and lack of diversity in the education system and in all aspects of our society. Therefore, for recruitment into any post, where we have 2 or more candidates of equal merit, candidates with protected characteristics will be given advantage over candidates without such characteristics. This is sometimes referred to as a 'tie-breaker' and is referred to as 'positive action' in the Equality Act 2010.

To help us meet our high standards and aspirations of a fully diverse and inclusive workplace, we strongly encourage suitably qualified applicants from all backgrounds to apply and to join us.
Documents: